Not Exactly Radio
Bunnell / Western Union Sounder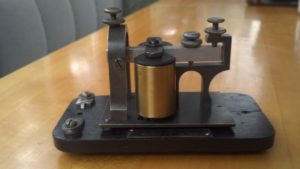 I picked this up at a Ham swap recently. I've seen telegraph sounders before, but this one caught my eye. Not only is it in pretty good condition, but it seems to have an unusual although attractive selection of coloring. If you know more about this, please drop me a note.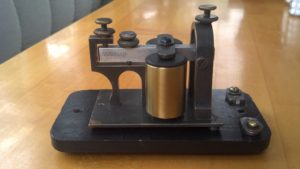 The bright brass coil covers makes a nice contrast to the darker frame. Looking around, I don't see many with this combination.
Full Resolution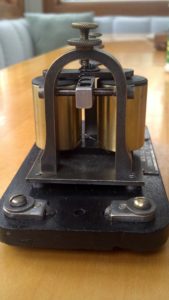 I'm curious as to whether the way the wires are connected between the two coils is normal. Seems a bit haphazard, but is that normal?
By the way, this unit does work, so the coils and connections are OK.
Full Resolution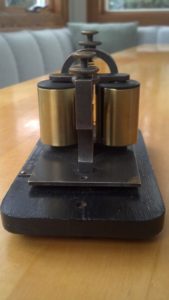 If you look closely you'll see that I'm missing one screw. I have the spacer, but not the screw. If you have an exact replacement that you could part with, please let me know.
Full Resolution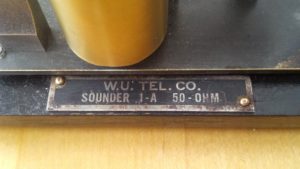 I've seen others that have a plaque like this, but not many and even fewer that are 50 Ohm (for long cable runs?).
Full Resolution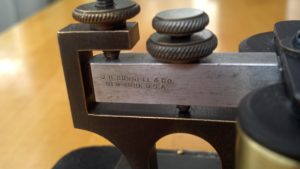 I read that J.H.Bunnell & Co didn't locate in New York until 1899, but I've seen conflicting references. This is one of the two competing Bunnell companies who made such equipment.
Full Resolution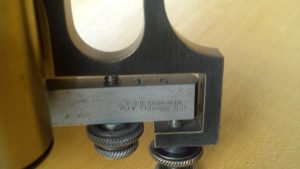 Note the "1 5" marking on the bottom of the lever. There's also "1 5" marked on the inside of the frame just to the right. I don't know what the 15 means. Could it be referring to model "515"?
Full Resolution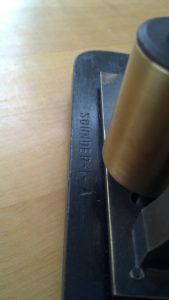 Also stamped on the top of the wood base is "SOUNDER-1-A".
Full Resolution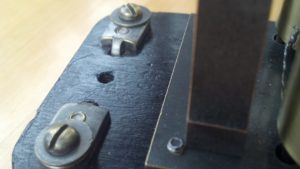 And, if you look carefully, you can see "50" stamped into the wood base near the line connections. I assume this refers to it being 50 Ohm.
Full Resolution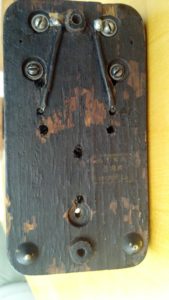 The bottom of the wood base has several markings on it. I don't know what the "E.M.-19-A" marking is, but I believe the "NYRS 3 23" indicates that it was in New York Repair Shop perhaps in March of 1923. Any thoughts on these?
There's also a stamp that I'm having a hard time reading. It seems to say "486" in the center, but the rest is for me unreadable. Could this be another repair or quality control stamp?
It also appears that the base is missing two of the conical feet. Again, if you have a couple you could spare, I'm interested.
Full Resolution
A better picture of the imprinted markings on the bottom of the base.
Full Resolution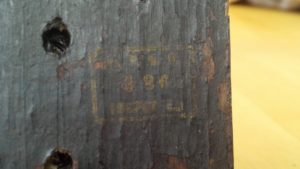 A better image of the stamp with "486" in the center.
By the way, all of these pictures were taken with my Motorola Droid 3 phone!